AutoClose
A Program Closing Timer: Close running programs at a scheduled time with powerful features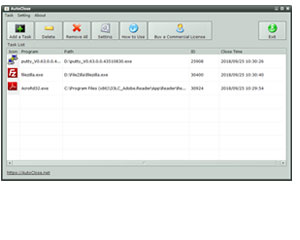 AutoClose is a handy Windows automation tool that gives you the power to specify how and when to close the running programs on your system. With AutoClose you get the choice to decide if you want to shut down, log off, hibernate or reboot your computer. It can support multiple tasks at a time and enable you to end background tasks effectively. It also allows users to execute and run programs on a scheduled time, or after no mouse moving or keyboard actions. This software truly gives you the peace of mind you need.





Video Intro of AutoClose
Scheduled Programs to Quit
Who Needs AutoClose?
End running applications at the specific time

People who use computers for work understand how harmful it can be to leave your system on for long periods. Leaving your computer on for too long can cause it to heat up and malfunction. In the case of laptops, the battery life is seriously affected by continuous, prolonged use. However, there are times when you have put a file on rendering or when you are downloading a large file, or even when the system is upgrading; there is no way to avoid leaving your computer on for hours. At times like these, an application that automatically ends all activities and switches off your system once you have completed your tasks, can prove to be very helpful.

This utility application has been designed to automatically close all programs and shut down or log out of the system after a specified period. This way, if you have put a massive file on download or are converting videos or documents, you can use AutoClose to fix an estimated time until your task would be completed. You can go out or get some rest and be assured that after the specified time all running programs would be safely put to an end.



A Handy Windows Schedule Application

The AutoClose program is handy and readily available for download. It does not matter which computer you use, where you live, or what the processing power of your computer is. AutoClose is available for all Windows devices. It is easy to use, clean and small. With its simple interface, even the beginners can understand how to utilize the amazing features of this tool. This handy and portable software can be installed on all kinds of computing devices. You can use it to indicate when to shut down or log off your computer once your tasks have completed. AutoClose lets you relax with the knowledge that your system would not be left running once your tasks are completed even after you have gone to bed or left your office. Particularly useful for students, designers, and software developers, AutoClose is tiny, helpful and portable.





Functions & Benefits
Details of this Scheduler Tool

The utility software is not only designed to close programs and turn off your computer automatically, but it also gives you plenty of other options as well. You can also indicate if you want to put your system to sleep or hibernate after a certain period. This can allow you to resume working from where you left off. AutoClose gives you the power to decide when you want to reboot your computer as well. Once the specified time is up, AutoClose diligently follows your instructions. Moreover, you can use this software to simply turn off the monitor display if you do not want to end the running tasks. This can allow your applications to run in the background while keeping your system secure. AutoClose is particularly useful in workplaces where information security is crucial. If you have to leave your desk while a program is running on your computer, AutoClose has the ability to turn off the monitor display to keep your data secure. Making it compulsory for all employees to use AutoClose can ensure there is no risk of any data being leaked or copied.

If you are downloading a file with a considerable size or running a program that needs heavy processing power, AutoClose can come in very handy. This software has the ability to close all the programs running in the background to speed up the processor. This can also help you get rid of any hidden programs or processes secretly running on your system. The feature to end multiple programs at a time is unique to AutoClose and can save you a lot of time. It allows you to select multiple programs that you want to close and automatically end them at the time you have specified. By ending all background tasks, you can also avoid draining the battery of your laptop. Laptop batteries can be affected by continuous, heavy use, and start malfunctioning. Replacing original batteries is not only risky; it is also expensive. So, if you have to render a big file, use this helpful application - AutoClose to end all the hidden or background running programs. This can considerably free the processor to focus on the important task, without exhausting your battery.

Available for: Windows XP, Windows Vista, Windows 7, Windows 8, Windows 10 and Windows Server 2003/2008/2012/2016 or later.

AutoClose Tutorial:
Close a running Program after a Scheduled Period of Time
How to Select a Program by the Dragging Select Tool
How to Close a Running Program at a Specific Time
How to Terminate Hidden Programs and Processes
How to Set PC Operations(Reboot/Shutdown/Logoff etc.) After Finish Tasks
How To Schedule A Program To Run Automatically in Windows 10
How to Kill a Process at a Specific Time on Windows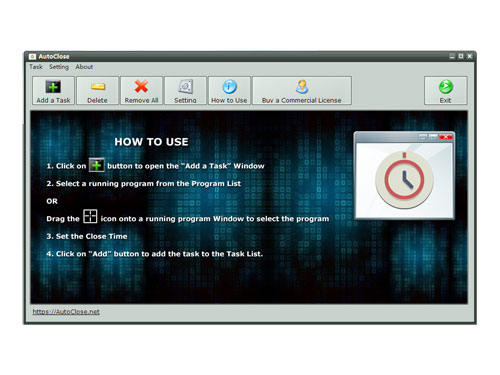 Want to Auto Close Programs on Windows 10, Windows 8 or Windows 7?
Download AutoClose Now!
Windows XP/ Vista / Windows 7 / Windows 8 / Windows 10 & Server (64/32 bit) - 1.8 MB
Portable Version (1.2 MB, ZIP Format)
User Testimonial
" AutoClose is a great time saver when I need to go out but the file converting is unfinished. Thank you for creating this great app! "

– Casper Bell