AutoLeaveMeeting
Auto Close Web Meeting Programs such as Zoom, Microsoft Teams, Skype and More on Windows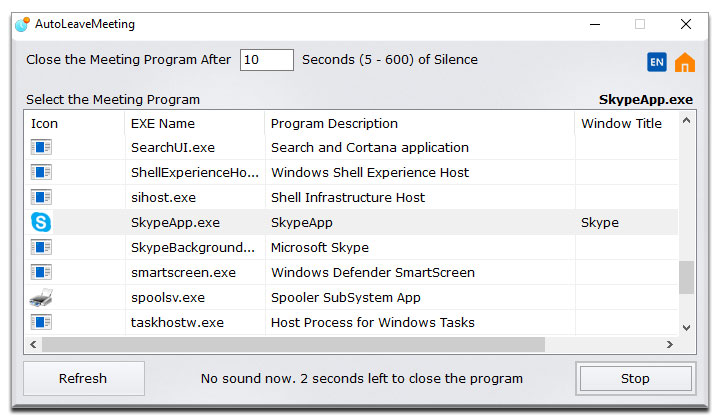 Download AutoLeaveMeeting Now!
Version: 1.0
Windows 7 / Windows 8 / Windows 10 / Windows 11 or later & Server (64/32 bit) - 1.4 MB
Portable Version (650 KB, ZIP Format)


With the growth of telecommuting and remote meetings, you may often need to have web meetings. However, some web meetings may not be important, but you can't just walk away from them. It would waste you a lot of time.

Is there a way to do something else meaningful and productive while a boring, lengthy meeting is ongoing, and automatically close the meeting program when it's over?

AutoLeaveMeeting is a handy Windows software tool that continuously detects the sound on your computer, and once if it detects no more sound output and the program will confirm the meeting is ended, then close the web meeting program instantly. AutoLeaveMeeting can help you to hang up or automatically close the web meeting easily.

This small tool is compatible with most of popular online conferences and web meeting programs such as Zoom, Microsoft Teams, Skype, Webex Meetings, BlueJeans Meetings, GoTo Meetings and so on.
How to Use AutoLeaveMeeting
It is very easy to use AutoLeaveMeeting to close web meeting programs automatically.

Simply choose the web meeting program in the list and click on the "Start" button then AutoLeaveMeeting would start detecting the sound.

Once the silence keeps more than 10 seconds (you can also change this value at the top option box), AutoLeaveMeeting will immediately close the web meeting program you selected.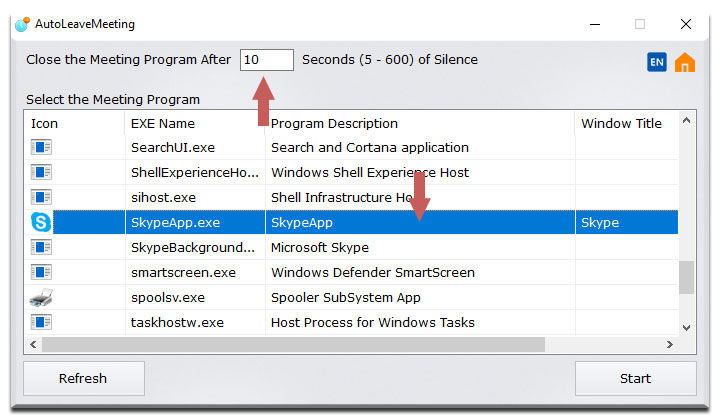 Take Skype for Example
Download AutoLeaveMeeting Now!
Version: 1.0
Windows 7 / Windows 8 / Windows 10 / Windows 11 or later & Server (64/32 bit) - 1.4 MB
Portable Version (650 KB, ZIP Format)
Share AutoLeaveMeeting to the Social Network:




Review:
Auto Close Web Meeting Programs such as Zoom, Microsoft Teams, Skype and More on Windows
- SoftLay
Software to Automatically Exit Online Meetings
- Taimienphi (vietnamese)