Auto Email Sender
Auto Send Emails & Newsletters to your Readers for Free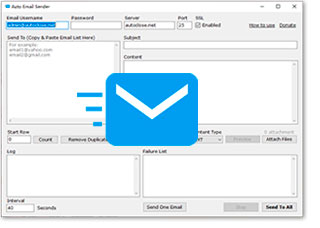 Auto Email Sender is a small and neat free automatic SMTP email sending tool. As long as you add a list of email addresses, it can automatically send emails or Newsletters to all email addresses one by one via SMTP. You can set the interval time to let the program send emails at a low speed or a high speed.

Auto Email Sender supports both HTML and plain text email formats, and also supports adding multiple attachments. In addition to these, it also has a log recording window, failed sending email list window, and an SSL encryption function. The file size of Auto Email Sender is extremely small: the installer is 0.9 MB, and the ZIP portable package is only 60KB!
Click Here to Check the Tutorial - How to Use Auto Email Sender to Send Emails in Bulk


PLEASE DON'T USE THIS TOOL To SPAM!
Download Auto Email Sender Now!
(New version added the draft auto-saving feature)
Win XP / Vista / Windows 7 / Windows 8 / Windows 10 / Windows 11 or later & Server (64/32 bit) - 0.98 MB
Portable Version (100 KB, ZIP Format)
Share Auto Email Sender to the Social Network:







Auto Email Sender uses SMTP server to send (like all mail clients, such as Outlook, etc., use SMTP to send mail). Using SMTP to send has its advantages and disadvantages.


Benefits of using SMTP to send emails

Using SMTP to send mail is a very common way, as long as your mail content is not spam, it will not be put into the spam mailbox.


Disadvantages of using SMTP to send emails

The SMTP server is generally provided by the mailbox provider. In order to prevent customers from sending spam, the mailbox provider will limit the number of emails sent by customers. In particular, the free mailbox limit will be stricter (some days, only a dozen or dozens of emails can be sent a day.), the paid mailbox limit will be relatively loose, but generally will also limit the number and frequency of emails sent every day.




Highlights of Auto Email Sender

- Simple interface, easy to use.
- Allow to set the sending interval and speed.
- Both HTML and plain text formats are supported.
- Support adding multiple attachments.
- One-by-one sending, simulating manual sending to each recipient.
- Anti-spam: use standard SMTP to send mail.
- Failure log: Save all email addresses that failed to send, so that users can try to resend the wrong emails again.
- Delete duplicate email addresses with one click, ensuring that each email address is sent only once.
- Support SSL encryption protocol.
- No limit to the number of email addresses in the list.
- Error log: check the reason for the failure of sending.
- Totally free, small, portable and clean.



Suitable users

1. The number of emails sent every day is small, from hundreds to thousands.
(Auto Email Sender has no limit on the number of emails, so this is based on your server limit. Again, DO NOT send spam!)

2. Website administrators or companies who send emails purposefully, the content of the email is not spam, and the email address is highly targeted, true and effective.



Inappropriate users

1. Sending emails to a huge number of customers, more than 10,000 email addresses. You need a larger online mail sending service instead of using SMTP sending tools.

2. Send unauthorized emails or spam.

Auto Email Sender is NOT a tool to generate spam!




How to Use Auto Email Sender to Send Emails in Bulk
Step 1 - Set Your Email Account, Password and Server

Input your email account, password, server address and port to each text box. You can enable the SSL encryption by checking the SSL option.
NOTE: Please set the port to 587 for SSL encryption.



Step 2 - Add Recipient Email Adresses
Copy and paste your recipients' email addresses into the "Send To" area, one per line. You can click the "Remove Duplicated" button to let Auto Email Sender remove the duplicated Email recipients.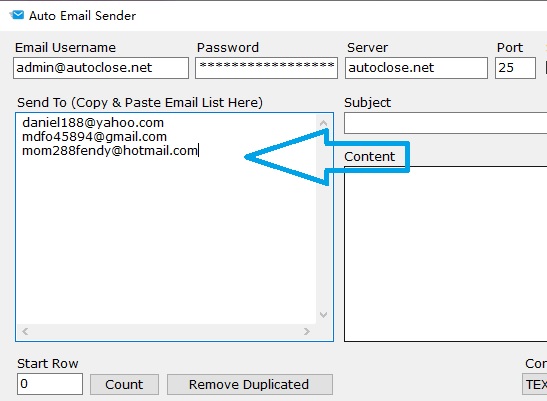 Step 3 - Write The Email Subject and Content
At the right side of the program, you will see the "Subject" and "Content" areas allow you to write the Email. You can change the Email format from TEXT to HTML in the "Format" dropbox at the bottom of the content box. By clicking on the "Attach Files" button, you can add attachments to the Email.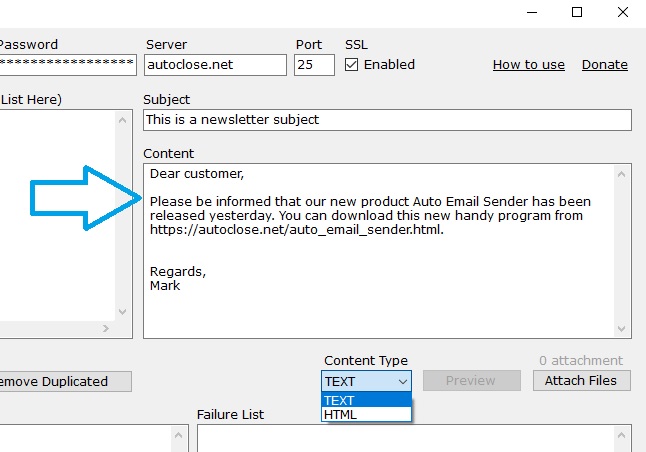 Step 4 - Set the Sending Interval
Auto Email Sender sends the email to your recipients one by one, so you have to set an interval time to prevent spam. You can find the interval box at the left bottom of the program window. It is recommended to set the interval to 20-60 seconds.



Step 5 - Start Sending!
The final step is to click the "Send To All" button, the program will start the task and send the Email to all recipients one by one automatically.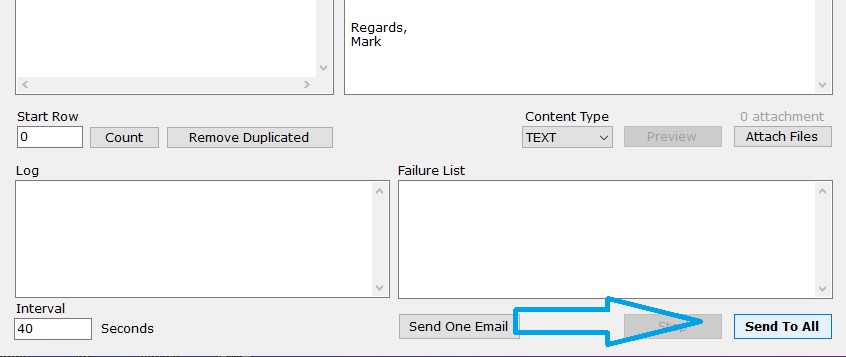 Reviews:
A handy email marketing tool sends emails to multiple addresses in bulk - GuruHiTech (Italian)
Free Bulk Email Sending Software - Taimienphi (Vietnamese)


More about email marketing and delivery:
How to Send Bulk Emails Correctly and Avoid being Spam
4 Common Reasons and Solutions for Failure to Send Emails
14 Reasons and Solutions for Email Delivery Failure and Return Messages