SilentRun
Run Programs Hidden and Silently in the Background on Windows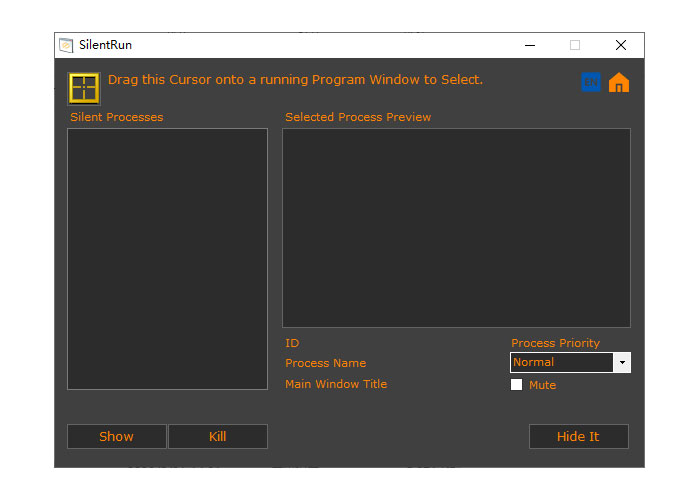 Download SilentRun Now!
Version: 1.0
Windows 7 / Windows 8 / Windows 10 / Windows 11 or later & Server (64/32 bit) - 1.5 MB
Portable Version (1.3 MB, ZIP Format)
License
: Free + PRO (
Upgrade to PRO for Only $19.95 USD
)


SilentRun is a small and handy Windows system software tool that can easily let you run multiple programs silently in the background. It can hide program windows and interfaces, and increase or decrease the priority of background processes. For some programs with sound output, SilentRun can also mute the program then run it silently in the background.

SilentRun has a simple interface and is very easy to use. To run a program silently, simply drag the selection box in the upper left corner of the SilentRun window to the title bar or the window of the program that needs to be run silently. You will see the program is selected by SilentRun and a thumbnail of the program would be displayed in the preview area. (Some applications use the non-standard GUI and that might be displayed as a solid black square). After that, you can select the background silent running priority (the default is the "Normal" priority) under the preview area, and set whether to mute the sound output, and finally click the "Hide It" button. You can repeat the above steps to let multiple programs run silently in the background.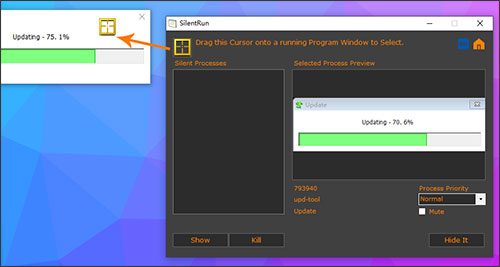 Quitting SilentRun will not close these programs that run silently in the background. You can open SilentRun at any time, restore these programs in the "Silent Processes "list on the left, make them visible and run in the foreground, or close and kill processes directly.

In addition to the GUI visual interface, SilentRun also provides the command line mode, which allows you to run other visual programs through the command line. It automatically hides the interface of these programs and places them in the background to run silently. The command line mode also supports providing parameters to invoked programs and EXEs.


Features of SilentRun

- Run multiple programs silently in the background
- Hide program windows and interfaces
- Increase or decrease the priority of background processes
- Run programs silently with no sound
- Keep background programs running even SilentRun was closed
- Command line mode is available
- Support multiple parameters for command line invoking EXE
- Portable version is available
- Multilingual




Download SilentRun Now!

Version: 1.0

Windows 7 / Windows 8 / Windows 10 / Windows 11 or later & Server (64/32 bit) - 1.5 MB

Portable Version (1.3 MB, ZIP Format) Share SilentRun to the Social Network:





Command Line Usage
SilentRun.exe -t [The time of EXE program initialization] -r [process priority] -m [mute] -e [EXE Path] [EXE Parameters]

-t The time of EXE program initialization, milliseconds.

-r The process priority of the EXE to be called.
0=Realtime (Highest)
1=High
2=Normal
3=Low
4=Idle(Lowest)

-m Mute the EXE.
0=Mute
1=No Mute

-e The full path of the EXE to be called. If there are spaces in the full path, please enclose the path in double quotes.

If you want to add parameters for the EXE, you can add them after the EXE full path.


FULL EXAMPLE:
SilentRun.exe -t 1000 -r 4 -m 0 -e "D:\Update tool\upd-tool.exe" -v 1 -s server2
Reviews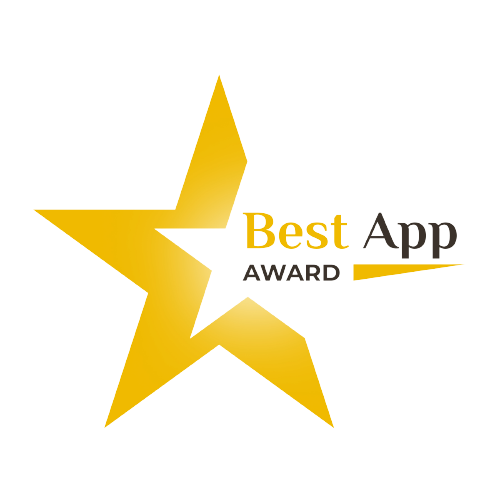 The Ultimate Tool for Running Programs in Stealth Mode - SoftLay
Run Multiple Programs in the Background without Distractions or Interruptions - BoxPrograms
Make Annoying Programs Disappear - Netzwelt