How To Schedule A Program To Run Automatically in Windows 10 and Windows 11
Auto Close is one of the most useful tools to schedule, close, and run programs at your selected time. Furthermore, an easy to operate interface also makes AutoClose prominent among its peers.
Computers, laptops, smartphones, and other digital devices have become an essential part of modern life. However, this excessive usage of the internet and digital devices is also raising data security problems. Nowadays, every business, irrespective of their size, uses computers to store both their companies' general and confidential data. Companies invest a hefty sum of their money for minimizing data theft chances. However, your data needs to be secured from both the traditional and nontraditional breaches of security.

Despite all the security measures, it is quite hard to avoid the lesser-known threat of shoulder surfing. "Shoulder surfing" is a relatively new term. It is used to describe the attempts to obtain someone's data by spying on him. In a survey report by Memon and Nguyen, it was revealed that 73% of mobile users were able to peep-in at the PIN Code of other users at some point.


Ways to Minimize the Chances of Shoulder Surfing


Have you ever thought about why your bank app's login session expires after every few minutes of inactivity? Digital banking mobile apps and online banking systems use advanced security measures such as two-factor authorization. Similarly, the automatic expiration of inactive sessions is the most useful measure to limit shoulder surfing instances.

Let's be realistic; shoulder surfing cases will surge in the future with increased digital devices' usage. Small and mid-size businesses are more at the risk of data compromise because security often comes at a hefty price. However, the threat of shoulder surfing can be eliminated by using the specialized applications that turn off the computer and selected applications after the inactivity timeout.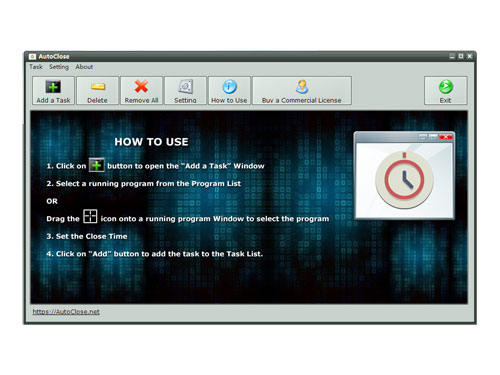 Close Programs at Your Chosen Time Frame

Using the AutoClose tool, you can enhance your computer's performance by closing unnecessary apps that slow down the computer. Due to the automatic app closure, the AutoClose tool is hugely beneficial for office use. You can choose the shutdown time for the entire computer or turn off selected programs at the set timer.


Close Both the Back-end/Front-end Processes

AutoClose app is a complete tool that also closes down both the front-end and back-end processes running at a computer. When the AutoClose app shuts down your computer, all installed and system programs shut down and eliminate future performance issues.


Automatic Reboot, Shutdown, Hibernate & Log Off Options

AutoClose tool assists you in task management if you have to leave your computer unattended for a long time. A heavy file download, a system update, or automatic app processes can limit your ability to work on the other tasks. However, you can schedule your PC to shut down, hibernate, reboot, or log off according to your task's nature.


Automatic Batch Close

AutoClose is a multitasking tool that helps you to manage your entire computer at once. It is designed to keep track of records of running programs and closing them at assigned timing. Along with the system's closing, you can also select different times to close and quit your selected list of programs.


Auto Turn Off Display Monitor

This feature is the need of the hour if you are among to curb shoulder surfing at your home and office. You can instruct the AutoClose tool to switch off the monitor after the selected time interval. By doing so, the monitor shows a turned off-screen, but the computer system keeps working.


Load Your Readymade Task List

AutoClose tool is also equipped with a user-friendly interface and an easy to use time planner. You can make a list of programs and assign them different closing times. Tasks such as switch off the monitor, shut down, hibernate, and reboot can also be pre-planned in the AutoClose tool.


Run Programs at a Specific Time

AutoClose app also has a built-in feature to instruct the specified programs to run according to the planned schedule. Select your required program and assign it an execution time frame. Even if you left your computer unattended — the AutoClose tool will help you finish your tasks on time.


Special Instructions for Inactive Sessions

Unattended computers can give access to any trespasser to your unprotected data. However, the AutoClose tool is an excellent app that follows your instructions after the pre-set inactive time. For instance, the switch off monitor helps you to prevent a data breach.



AutoClose Usage Guide For Windows 10 / Windows 11 Users


AutoClose tool features a simple yet advanced interface, which is equally useful for beginners and experts. Follow this 3 step tutorial to plan the execution of your programs.

1. Download and install the AutoClose tool on your Windows 10 / Windows 11 PC.

2. In the "Add Task" drop-down menu, choose the "AutoRun Task" option. AutoRun Task lets you choose the programs you want to run on automatically.

3. Set the specific parameters for the execution of your selected programs by using the command line box.

Note: The Time Settings also lets you define the running duration of the selected programs.





Download AutoClose Now!

Windows XP/ Vista / Windows 7 / Windows 8/ Windows 10 / Windows 11 & Server (64/32 bit) - 1.8 MB